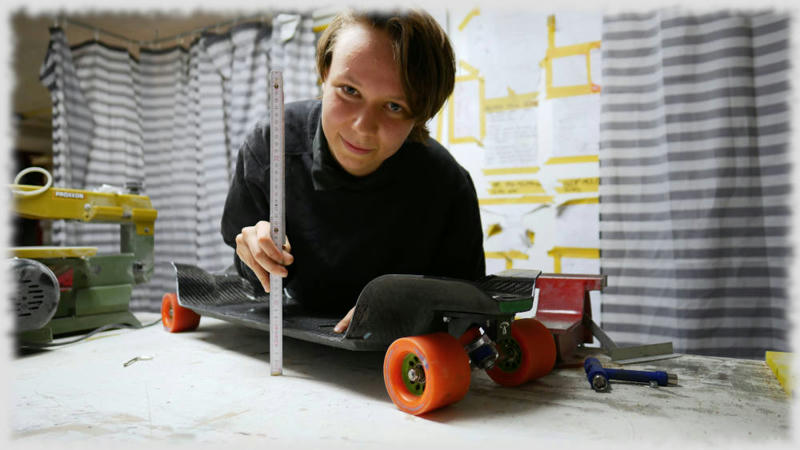 Surfing the social networks of the distance skating scene, one soon notices photos of platform decks with the MelonenKacke brand. These decks are characterized by bold graphics and even bolder shapes. You can't have missed them. Their graphics are veritable eye-candy: lushly colored, loose in form, usually space-age-themed drawings, or amorphous, psychedelic color explosions. However, even more attractive for me is that their unconventionally shaped, thick, carbon-wrapped bodies suggest that the designer has technological progress in mind. They are a departure from the risk-averse, conservative, but omnipresent 7-9 layer sandwich, which is traditionally adorned by teenage-boy fantasies in the 50s hot-rod, pop-horror, pin-up, or punk aesthetic, or by a minimal, unadorned, faux-classy look that shows off its materials (because teenage boys grow up to become class-aware men). MelonenKacke's designer, artist and builder obviously has a radically different view.

I watched a few videos on MelonenKacke's YouTube channel, on which Lena, the woman behind the brand, shares montages of the building process, as well as details about what in her view makes her decks technologically innovative. But I wanted to understand more and be able to evaluate for myself whether, and to which extent, Lena's decks are ahead of the competition. Naturally, I was also very curious about her work and development processes, as well as her approach to marketing. Then I thought: "wait a minute! I have a blog. Interviews are also what blogs do, isn't it?". I reached out to her with my questions, and she graciously accepted to answer them.
Beginnings
Hello! Please introduce yourself.
Hi. My name is Lena Meringdal. I am a distance skater just like you. I love to tweak my setup to get the best out of my equipment. A few years ago I started developing my own longboards. I do not hesitate to question constructions and criticize them. In the end a better longboard brings us further.

I live in the Netherlands and I have a small garage factory. It's close to the German border and close to my training and test road, the "Vennbahn." Officially, I have a German and Norwegian ID, but I consider myself independent from countries and I don't hold patriotic beliefs. I am an open-minded world citizen, just as I am open for new constructions and innovations in the longboarding scene. I will never stop expanding my knowledge.
Which was the first deck you built yourself? When was that?
I think it was 2015. At the age of 15 (yes, I am a millennial kid :P), I made a 1,30 m longboard deck with some birch plywood and fiberglass. It was a fun project! It had a MelonenKacke fish graphic. I actually skated back from school with this deck, which meant crossing the German border over to the Netherlands. Back then I didn't know that I liked to skate distances, even though I always did it. I also didn't know that soon after I had built my first deck, I would want to build more and more. Life without building boards felt empty.

Fast forward to 2018. I was still attending school. While in class, my mind was occupied with improving longboard constructions. The result was the first MelonenKacke deck: the Spoetnik.
What urged you to become a deck maker?
When I love something and do it a lot, I want to optimize everything. Apparently I am a distance skating fanatic, and I was not happy with the boards available on the market. So I started developing longboard decks for LDP. I had a lot of ideas to improve a longboard deck itself with a repertoire of different materials. I had to learn the theory about the properties of materials and forces that occur in LDP decks, as well as find out, in practice, the performance parameters of the completed constructions. On the side of this long road of ups and downs (but mostly ups, as you can learn a lot from failures) I showed some of my initial research on my YouTube channel. As the final products of this process of continuous development were performing better and better, the interest in my decks rose and I started getting more orders. Thus, I started selling my own longboards.

Now, I have a registered business under the official name "MK Longboards." It's a one-woman show. I am a small startup and I do everything alone. I have an ever-expanding lineup of different LDP decks with very innovative constructions, and customers from the USA to Japan. Perfectionism is what urged me to build longboards. And growing interest and good reviews brought me to sell these boards.
Lineup
What's your lineup? Could you give us a couple of words for each deck?
Today in our lineup we support the following series: Cork series and Competitive series.
First, a bit about the Cork series: In our proprietary cork construction we use cork in combination with carbon fibers. Depending on the board, we also integrate a frame of carbon tubes and three dimensionally laid carbon fibers. All boards are custom-made and reinforced to the riders' weight to optimize the weight of the board. All boards are very rigid through the carbon reinforcement with the dampening characteristics of cork. The boards are technically demanding, but once you get the hang of them it's amazing to skate. The directness due to the stiff carbon reinforcement creates a very precise ride, while it conveniently saves some of your energy that typically gets lost in longboards with flex. Our proprietary cork construction is a completely different approach to modern day LDP decks. A great alternative!
Before you go on, I'd like you to tell me what it is that makes your decks significantly different to other decks made with cork. Loaded, for instance, also uses cork in a couple of decks. I understand that you wrap carbon around cork, while others layer it. What does this do for your decks?
To my understanding Loaded only uses a thin ply of cork in their boards. The cork ply is around 1mm thick, the rest are wooden/bamboo plies. The core in our boards is made completely out of cork. There are no wooden plies. So what's the difference? The main reason to use cork in boards is to absorb vibrations for a more comfortable ride. If you use wooden plies in addition to the cork you are simply not going to achieve that. The wood acts like a bridge from your trucks to your feet, sending the vibrations directly to your body. That's why we use in our proprietary cork construction, a core mainly made of cork.
So, which decks does the cork series consist of?
The cork series consists of: Spoetnik: As mentioned, the beginning of MelonenKacke! On our Youtube channel you can still watch some of our R&D videos where I developed Spoetniks. In one you can even see how I integrate a carbon tube frame into the platform. Interesting, right? As soon as we tested the carbon tube prototype, we knew this had potential. The result was a stiff deck that performed great with every setup!
CLDP, aka Crazy Long Distance Pusher: Our carbon cork pusher. It has the steepest drop ever made (4cm of drop over a length of 4 cm). It's a double-drop deck that you can skate with 150mm cast trucks, or even narrow Dont Trip Poppys. It has a lot of space for your wheels. The CLDP is known to withstand incredible forces. It's very durable. It skates low and is very stable. For us this is the perfect backpacker longboard: a trusty companion for skate trips.
ISS, aka Incredible Super Spoetnik (we are very funny people, I know!): It's basically an improvement of the Spoetnik. The ISS is all about precision for the technical tour player. This board is a Swiss army knife: it suits every setup and every tournament type. It's a carbon cork platform with an integrated 15 degree front bracket. Our main theory while developing was: when you integrate the front bracket into the construction, the power transmission should be better. With the ISS you don't need to hold a front bracket in place with 4 bolts. You can save energy with a direct steering platform. The fenders double as mudflaps and as foot-stop.
And a bit about the competitive series?
Here we looked at LDP boards from a different angle. When you want to go as fast as possible in races, you want your platform to behave perfectly. So, what are the characteristics we need from a platform to win races? Soon we realized that the characteristics depend on the setup. We started developing boards optimized for specific setups.
Procyon: Many skaters like Torsion Tails, because the torsion of the metal gives a lot more rebound than the snap-back of the bushings after compression. The Procyon is the first board for the competitive series. Our goal was to develop the best Torsion Tail platform on the market. After many prototypes, we've come up with the following features:
1. A long wheelbase to increase the top pumping speed.
2. By carefully selecting the right materials, a flex that quickly bounces back.
3. In order to not lose energy, the flex is asymmetrical. The rear flexes more than the stiffer front. Thus, the front allows optimal power transmission to the front truck. The relatively flexy rear, that also allows a bit of torsion, serves as a spring, which (particularly combined with a Torsion Tail) translates into a nice and fast board.
The result is a board with a very high top speed, that skates effortlessly on the long run. I skate all challenges with the Procyon. Take a look at my results of the IDSA 2020 Social Distance Skating World Tour, that I won. Also, check out this video.
In the future we're planning to release a deck called Ascension. The idea behind it is: not everyone prefers Torsion Tails. E.g., Dawid Pabian has won many competitions on Exile brackets. These trucks are definitely valuable competitors to Torsion Tails. Together with team rider Marwin van Rijen, we are developing the best board for bushing trucks/brackets. We can't say too much as the board is still in development. What I can say is: the Ascension is a 950 gram light deck. The wheelbase options are: 51,5cm, 53cm, 54,5 cm. It has flush cuts to lower the standing platform. The flex is very direct and precise. Marwin's results are already very good (check out his Instagram). We expect it to be released in a couple of months. Stay tuned!

There are more boards we are currently working on. It's too much to talk about here, but whenever we are on to something good, we will make a post about it on our social media. All boards can be ordered with a custom graphic. No artwork is too crazy for me to paint!
How does pricing work?

Our boards are still cheap considering the amount of work we put in it and the performance they have. To get such a performance, our production process is completely different to other manufacturers. Optimization requires more steps and more time to produce one board. Again: our focus is performance, not mass production. All boards are handmade in our little factory, as any detail in the production process counts. The feedback from riders is that they perform better on MelonenKacke boards.

Currently, if people want to order a board, they have to contact me. They can do this via DM on Facebook or Instagram, or simply email me at Mklongboards@kpnmail.nl. I take all the time needed to work everything out with each individual in order to optimize the board to their needs.
Marketing
What do you aim for the "MelonenKacke" brand to mean for skaters?

Out-of-the-box thinking. I carefully select the materials in line with the goals. I develop innovative constructions no one has ever built before. No more plain boards. No more pressed wooden veneers with fiberglass reinforcement and a layer of carbon, to give people the impression it's lightweight. Instead: Weight matters. Performance matters. Durability matters. Quality over quantity. And to top it all off: a wonderful piece of art on the bottom!

Intensive testing on durability and performance before release to market. If I, or the team, wouldn't use the board, I wouldn't release it.

Family-like customer relationship. The team and I are always happy to hear how people like our boards. We welcome criticism, so that we can improve our boards. On the other hand, we support whenever someone needs help tweaking their setup,or improving their pump style. We have become a little family 🙂

To shake up the longboard community, I came up with the provocative brand name "MelonenKacke." [That's German for "melons poop." Lena formally uses "MK Longboards" to bypass Facebook's word filters and avoid problems with German suppliers who might take it as an insult.]

How do you reach new customers/your audience?

Via social media: Instagram and Facebook.

Participation in races. Winning a race is another proof of the performance of MelonenKacke longboards. Of course, being fit helps with winning too! 🙂 But ultimately, a well designed and constructed LDP board is an absolute prerequisite.

Via my teamriders Marwin van Rijen and Eliah Abtmeyer, of course.

But especially through my customers. There is no better advertisement than a happy customer!


Do you find it easy to get the attention of new customers? Would you want it to be easier and if so, how?

I think getting new customers next to posts on social media works a bit like a telefon schleife: you call two, those two call each two more, etc. Just that here it is that customers recommend my boards to fellow skaters. So I just have to be a bit more patient. I do see an increase in orders compared to last year, which is already very encouraging.

But, yes, sure! I would always wish to get more customers, so that I can invest even more in innovation.

Designing a good and interesting website is on my list of next steps.
Future
What is your longer term goal?

Near future: I am currently learning to work with metals. I now have a lathe and mill in my little factory, so that I can precisely work with metals. In the meantime I am reading on properties of different aluminum alloys, steel and titanium. In the end it's always the same: bringing the practical knowledge together with the theoretical: How can we use it to make better longboard equipment?

My ultimate goal in LDP is raising the bar of performance through improvements in equipment. We want to go faster. We want to go further. Training is one way to go, but on top of that, good equipment is the basis for improvement in performance.

Apart from skating. Wherever I go I see potential for improvements.

Far future, but one day it will happen: build a car. This was my long life dream as a child, it's completely fascinating how the suspension and the steering of a car works so smoothly. I even won a first prize as a 12 years old kid from University of Aachen. The competition was about how to make a car more eco-friendly, how to make it more safe and how to have fun with a car. Build a plane, build a road bike etc. I don't think it will ever stop!

Do you think you have a fair chance in the distance skating market? Are there things that work for/against MelonenKacke?

Maybe the name? 😀 But the name is as unique as the boards and surely not boring 😀

I don't know. Getting a fair chance in the distance skating market is challenging. I try to advertise my products constructively with descriptions that fit my products. Unfortunately this is not according to used marketing strategies. Companies can just yell out things like: "it's a lightweight board" without even stating the weight, or durability. Or, that it's a carbon fiber construction, when the main reinforcing fibers are fiberglass, and there is only a thin layer of carbon on the bottom. People don't have the budget to order different LDP boards on the market to test out what is best. They often trust what marketing promises them. However, in order to find the best fitting platform you have to look through the fog of marketing. Who has the knowledge in lightweight composite constructions to be able to do that and judge what is the best board?

That's what many of your competitors count on, isn't it?

I guess every company wants to have as much profit as possible, and I can understand that, as none of us will earn a lot out of longboarding. So getting a fair chance at the distance skating market is challenging. All I can do is to constructively state the characteristics of my boards and to actively show performance by participating in world-wide competitions.

Yes, but playing fair shouldn't be too much to ask.

Maybe I am a bit too naive, but my conviction is that when the quality and performance fits, we buy these products. It's a process, I am sure with a bit of patience, my boards will find their place in the market.

What about the consumer who lacks specialist knowledge? How will that consumer be able to reach an informed decision on a deck purchase, when the LDP marketing has made it normal to not even state how heavy a deck is and when everything is treated as a popularity contest? If it's popular, it's good. Where is the room for innovation?

Good question. Unfortunately in many cases the consumer is led by marketing. What we need are dedicated competent people that are independent from companies and organizations to review these products and compare them. Harsh critics with a no-friends policy. In the end it's quite simple: all boards with 4 wheels will bring you far. But the question is "how far?", "how fast?" and "is this equipment performing well for my level of training?". We also would need professional, independent durability tests. Like they test bike frames on durability, longboard parts should also be tested. The durability of longboard equipment is good to know, not only for deciding whether it's worth the investment, but also for safety reasons.

Now, in order to do that, we need experienced riders with a technical background who understand what's going on under their feet. We need open minded skaters that are able to adjust their style to different equipment that requires different pumping/pushing techniques. And, on top of that, people that are willing to share their impressions. Through independent reviews, skaters have a better chance to choose new equipment matching their needs.
Epilogue
I'm not sure how we could get there, but I firmly believe that both the consumers and Lena would benefit from that. I'm also convinced that if her brand had the footing in the market that it clearly deserves, the pressure on other manufacturers to at least try to improve their own designs would only serve to boost the technological advancement of the sport. Actually, all skaters who care about progress ought to take notice. Until then, Lena will have the most technologically forward-looking and visually unique deck lineup around.
---
All images are owned by Lena Meringdal.