Most TKP trucks are built with their pivot pin not parallel to the pivot axis. This is most probably a design flaw that early manufacturers couldn't care less about and later manufacturers haven't even noticed (more on this, here). But what exactly happens with the interface pivot pin – cup when the truck turns and the pivot pin unavoidably binds with the pivot cup?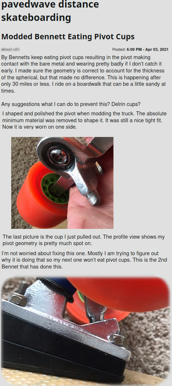 Here's my take:

1) At the beginning of the turn, the tip of the pivot pin rotates (as intended!) at the bottom of the cup, while the upper part of the pin slides towards the lips of the cup.

2)Then, the pin's upper part starts compressing the lips of the cup, while the tip of the pin starts sliding towards the sides of the cup away from the center.

3) Then, the "bind": either the truck abruptly stops turning, or (more probably) the pin starts sliding out of the pivot cup (see image right; damaged pivot pin at exactly the spot where the pin collides with the lips of the pivot cup, as predicted).

4) Then, the tip of the pin reaches the lips of the pivot cup and the truck can continue turning without pressure from the sidewalls of the cup [I'd bet here is where the "dive" happens]. Simultaneously, the axle is displaced (how much depends on the pivot pin's length and width), but I don't know if that's perceptible in this context.

I would be embarrassed to be a manufacturer of any one of those trucks, honestly.
---

Appendix
Generations of Bennett users have had to deal with the issue of recurrently damaged pivots. Here's James Peters, widely viewed as the "godfather of LDP," who generally doesn't even use spherical bearings in his Bennett Vectors (because, according to him, "they dive less" with one).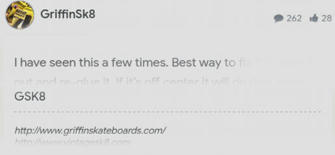 Also, Griffin Skateboards boss reports seeing the same problem "a few times" (but misdiagnoses it).
Replicas and fancy copies of the "legendary" Bennett Vector still come with this fault. Their manufacturers haven't figured it out yet. What's more, with the tighter tolerances that these CNC'd trucks are made, the binding between pivot cup and pin is even more acute. The Bhanger (in the beginning at least) was made with a spherical in the hanger, thus exacerbating the problem even more. (unknown image source; probably Pavedwave)

A few examples of old-school (but still very popular) TKP trucks with this problem and measured difference between actual pivot axis and pivot cup/pin axis . (Credit for the image goes to Donatas Glodenis)

Sabre Street Truck

Tracker RTS

Tracker RTX

Paris Street Truck

Independent Trucks Stage 11