I honestly think "zero" is advertised because it's a round number and expresses the concept; it speaks more than 1, 2 or 1,5 and makes it look like there's some magical golden number deal to it.

Nickie
Introduction
I was already following the online community when these trucks were first marketed. I remember seeing posts frequently before that, where brave pioneers were reverse-mounting RKP trucks with lots of wedging, to achieve a 0° pivot axis angle. It was never clear what the goal was though; as far as I remember, nobody was trying to make it clear either. I believe the appeal initially was simply the thrill of the discovery that nothing extraordinary happens when the truck is reversed (safely at 0°, right on the edge of the… abyss of negative values), just like children discovering something new about the world and showing it to their friends. In any case, the coolness factor was just too strong for doubts to creep in. Soon after, it was Subsonic, I think, who made decks shaped and drilled specifically to accommodate for this eccentricity. The journey from forum hype to commercial product was completed when Dont Trip and GBomb started marketing their bracket-system offers. Exile, the European company that's determined, it seems, to stay firmly under the shadow of its American colleagues, followed suit.
Geometry
The thing that fascinates me about 0° trucks, is that the angle is so specific. Why does it have to be 0? Let me break this down. As long as the rear truck angle is above 0°, as is conventionally the case, there's always a point on the deck with "absence of turn," as Felipe put it. Chances are, your back foot stands on it when you skate (see image, right). When you install a 0° truck, this point moves back (exactly on the center of the rear axle, like a car) and the board becomes harder to pump albeit with a higher top speed (i.e. the board's turning radius becomes less steep) [if you find this bit hard to follow, see this article]. Since you can achieve this with a longer wheelbase, and/or a non-0° truck de-wedged down to 0°, or even reversed to get a truck angle of negative x degrees (a good idea, if you have a shorter deck and you want the top speed), then why would you need exactly 0°? Felipe likes it, Nickie doesn't. It seems actual experiences vary.1
Physics
In other words, as far as the geometrical characteristics go, I see no particular advantage. Is there something about the physical characteristics though? Because, in principle, if you could adjust the energy-storing mechanism (bushings/springs/aluminum bars (in principle)) for different angles, there should be no difference in the physical behavior. James Peters thinks otherwise:
"All math equations aside [note: he refers to this], one thing I feel is different on ride feel of 0 degree rear versus a dewedged rear, is that some dewedge in the back gives the feeling of digging into and snapping out of turns more like when you're going edge to edge on a snowboard. Whereas with zero degrees in back, all the turn comes from the front, so the rear is like a sailboat keel that keeps you pointed forward / keeps the front in check."
I find this account rather too esoteric for my taste.1 It belongs in the category of all the unsubstantiated emotive descriptions that forums are populated with, rather than objectivity.
Conclusion
The real difference is that a 0° rear truck on, e.g., a platform deck (whose wheelbase is largely fixed) radically reduces the maneuverability of the board (albeit by increasing top speed at the same time). I believe it should be made clear, by those who market it, in which circumstances this would be desirable to skaters. And why 0° and not 1° or -1°? 0° trucks, even if there was a reason for them to be created, are very limiting.

The 0° truck concept has no theoretical substance and very limited applications, except for one: as a marketing gimmick. Skate companies simply monetized the pre-existing hype (and thus reinforced it and solidified it). As Nickie put it:
I honestly think zero is advertised because it's a round number and expresses the concept, it speaks more than 1, 2, or 1,5 and makes it look like there's some magical golden number deal to it …
….where the reality is that 0 mathematically correspond to nothing more than 1 or etc
Appendix: Torsion Tails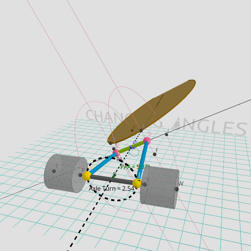 GBomb's Torsion Tails2 deserve their own article (find it here) for a few reasons, not the least of which is that they are not really 0° trucks, otherwise they'd scrape the ground every time they tilted; more on this, in the aforementioned piece.

Here, I just want to say that they have earned their right to exist, though not their popularity. I'll break this down. First of all, they are lighter than a conventional bracket-plus-truck set (incl. Dont Trip's Delirium and Exile's Insania). Second, unlike all the others, the Torsion Tails employ the springiness of metals as a return-to-center force. I'm no chemist, but polyurethane has got to be orders of magnitude less energy-efficient than steel or aluminum. Third, they are a genuinely new design, a fresh idea infused into the technologically and intellectually stale world of skateboarding. Integrating a regular RKP truck on a bracket (Delirium), even if you go all fancy with the pivots (Insania), doesn't qualify as inventiveness.

However, the Torsion Tails do have one disadvantage that conventional 0° trucks don't have: you can't adjust that springiness for your weight and style. You have to be as heavy as the prototype testers were to prevent wheel-lift, or (if you stiffen up the front truck to remedy wheel-lift) an overly stiff turn. In sum, they are trucks with absolutely fixed angle and stiffness. GBomb is making steps to communicate this on the product pages, but I guess it doesn't mind their popularity and leaves out the details. As GBomb says (and I concur): do your homework!3
---
1. It bears mentioning that both James and Felipe are being given free samples by GBomb and in my view they have a moral, if not legal, obligation to disclose that each time they talk about the products online. See here for more on this topic.
2. This article is an edited patchwork of old forum posts written years before GBomb released the TTX, its latest iteration of the Torsion Tails.
3. In the linked screenshot, replace the phrase "elite rider" with "rider that weights around 80kgr" and it will make perfect sense.